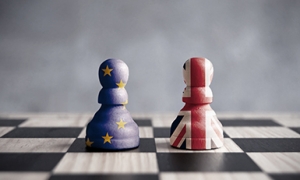 When it comes to healthcare, one thing is clear. Brexit is not good for the NHS. Staff shortages, further cuts and the possibility that it may be opened up to US drug companies all create jitters. With the NHS enduring its worst winter ever, the future is far from certain. This is a key reason why private medical insurance has become an increasingly popular choice.
An uncertain future
Here in the UK, we are rightly proud of the NHS. Ever since its inception, it has been a shining example of universal healthcare to the rest of the world, but now it faces what could be its biggest challenge yet.
Demographics are shifting. The UK's population is growing rapidly, both in numbers and age. According to the Office of National Statistics, as of 2016 the UK population numbered just over 65 million. By 2034, the ONS predicts this figure will rise to more than 74 million. The ONS also states that approximately 18% of the population was over the age of 65 in 2016, but this could climb to 25% or more by 2034.
In many ways, the NHS is a victim of its own success. Advanced healthcare is dramatically improving life expectancy, but with that comes more people living with complex, long term and hard-to-treat conditions.
At the same time, patient expectations are evolving: people expect the best standard of care at all times with minimal waiting times. New advanced treatments are more expensive; to keep up with modern healthcare, the NHS has to dramatically increase spending.
The Brexit Effect
Brexit adds another complicating factor. While the Vote Leave campaign made an extra £350million for the NHS a central plank of their strategy the truth is very different. According to one report from the Huffington Post, the UK could be an extra £350 million per week worse off.
Leaked government impact assessments also showed the economy performing worse under every exit scenario. The cold hard truth is that lower growth will mean lower tax receipts and, inevitably, more austerity for the NHS.
This comes at a time when the NHS faces an enormous funding gap. Lack of investment from successive governments has left a hole in NHS budgets. According to a report from Full Fact, NHS England has said that, if it makes no savings, it will face a shortfall of £30bn by 2020. Full Fact also states that with savings of 2-3%, the gap falls to £8bn, which is still a major challenge.
This is one area where the impact of Brexit becomes vividly apparent. The UK emerged from the first phase of Brexit negotiations facing a divorce fee of £39bn, as reported by Business Insider. Were it to remain in the EU, it could theoretically come up with enough to plug the funding gap with some spare change left over.
NHS for Sale
Of course, the economic impact of Brexit remains far from certain. While the majority of assessments are negative, there are those who believe it could be a benefit as the UK opens up free trade agreements with global partners such as the US. But it's those agreements that could also create further challenges.
When questioned in parliament about whether the NHS could be opened up to US drug firms, Theresa May gave a less than convincing answer. It was too early, she said, to predict what requirements the US would have in any trade negotiations, prompting Labour politicians to claim she had given Donald Trump a 'green light' to get his hands on the NHS.
As reported by The Independent, the proportion of NHS contracts given out to private firms has increased to more than 70%. The US would be keen to increase access to the UK for US businesses suggesting they would demand the NHS be opened up to drug companies as part of any negotiations.
On the other hand, it is possible to argue that membership of the EU itself would leave the NHS vulnerable. EU law requires the open market to be alerted to any new NHS contracts, so privatisation remains a risk whatever happens.
EU workers
Such predictions are hard to quantify. The UK may be worse off after Brexit or it may not be. US firms may rush into the NHS or they might not, but the one thing which is certain is uncertainty and that has major implications for EU citizens working in the NHS.
The UK has a long history of failing to train enough doctors and nurses. Until Brexit it was able to rely on free movement within the UK, but almost two years on from the referendum we're still no closer to knowing what the final arrangement will be. The Guardian reports that almost 10,000 EU nationals left the NHS after the referendum adding to an already serious recruitment crisis.
The sheer extent of the problems emerged over a traumatic winter for the NHS. In a recent Guardian article, Health Education England has warned that the NHS needs to recruit 190,000 more staff by 2017, but low pay and poor working conditions were driving people away. Ambitious recruitment targets look set to be missed.
Overrun A&E departments had to divert patients to other hospitals, ambulance staff had to care for patients in the absence of a doctor, and a shortage of beds led to patients being stuck in corridors. If this is the direction the NHS is taking, it's not a pretty sight. It begs the question, what can be done?
There are several options:
Stop Brexit: A bigger article for another time
Inject vast sums into the NHS: Although every party has promised more funding, none have done so to the levels that professionals say the service needs.
Seek alternatives: Do as many people are doing and go private.
The third option is proving very popular in the UK with many people taking out private medical insurance in the wake of the NHS crisis. The number of people taking out private policies has surged – reports show that figures rose by 2.1% in 2015, suggesting people's confidence in the capacity of the NHS is faltering.
It's a good option for those worried by rising waiting times and risks to care quality. Budget cuts within the NHS mean commissioners risk failing to adopt new and more effective treatments as quickly as they can.
For example, in February, Ireland announced that it was making next generation haemophilia treatments available for everyone. Termed 'extended half-life treatments', these offer improved quality of care with fewer injections. On the downside, they are more expensive. This added cost has prompted many NHS commissioners to stick with older, less expensive alternatives.
Access to High Quality Care
It would come as a major shock to many people to find that they can no longer expect state of the art care in the NHS. Private medical insurance can ensure you get access to faster and higher quality care.
As with any insurance policy you need to get the best policy for you. Prices may vary as may the extent of cover. Fully comprehensive policies, for example, offer extensive care and the choice of private wards in NHS hospitals or private hospitals. Budget options can help you skip queues for routine operations while self-pay options mean you pay the bulk but get back up to 75% of the cost.
Before choosing any private medical insurance policy, you should do your homework and ensure your chosen policy is right for you. Some insurers will be better and more reliable than others, so it's a good idea to shop around and do some research.
The future is – of course – uncertain, but the omens for the NHS and Brexit are not good. It's no surprise that many people are going private.
If you would like to learn more about the range of private healthcare options available, please give our expert advisers at Vintage Health a call today on 020 8371 5240 or email info@vintagehealth.co.uk . And don't forget to follow us on Twitter to keep up to date with all the latest news affecting UK healthcare today.